To Dream a Life 15/15
Title: To Dream a Life 15/15
Author: Cloud
wildwinterwitch
Beta:
xebgoc
Artwork:
seduff
Pairing: (John Smith/Rose), Ten/Rose
Rating: M
Summary: Someone gets slapped.
Author's Notes: So, this is it, the last chapter of a story that was supposed to be 6K words has grown into a short novel. Thank you so much for your support in writing this. I really enjoyed it, particularly since
Human Nature
and
Family of Blood
are the two episodes I really wanted to explore in fic. I'll take a break from posting next week. I'm still gallivanting about the Welsh countryside and there's little time to write. Also, I have to make my mind up about what to post on Fridays now that this fic is done, and there are several possibilities I'll have to weigh.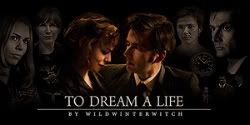 banner by
seduff
Chapter 12 -- NSFW